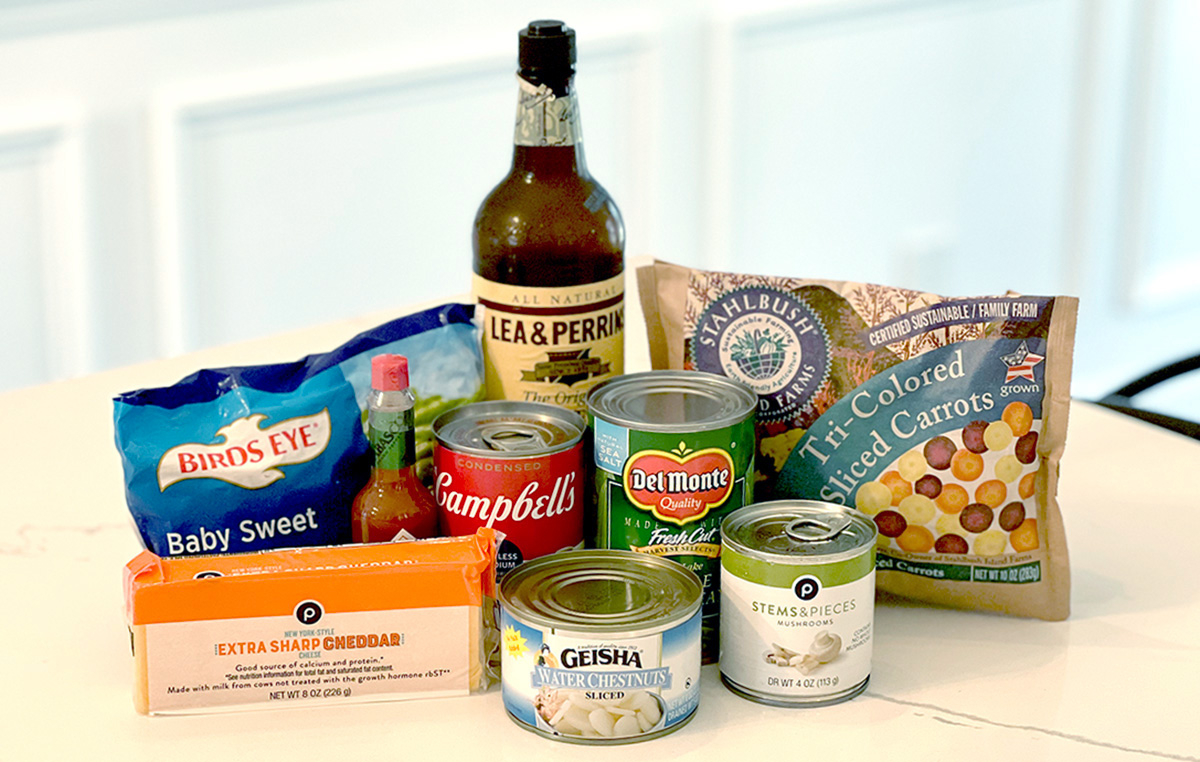 This Vegetable Oven Medley is definitely a blast from the past. After his first bite, my husband said, "this tastes like a 1960's casserole." And it does – in a good way! It's a very nostalgic, comfort-food type side dish. It's chocked full of veggies and super easy to make so you can get this assembled, pop it in the oven and still have time to make a protein to go with it. We quickly broiled some salmon filets and had a well rounded meal on the table in about 30 minutes.
A couple things I would do differently the next time I make this. One, the recipe calls for a sprinkling of brown sugar on top and that's one thing that really screams 1960's. I don't think it's needed. In fact, I'd probably go way stronger with the Tabasco sauce next time and give it more of a kick! The recipe also calls for cooked carrots. I figured frozen carrots would be the easiest way to go as we could quickly cook them in the microwave and then add them to the casserole mixture. Unfortunately, all we could find were these tri-colored sliced carrots. They tasted fine, but the purple carrots bled into the the sauce of the casserole and gave it all a grayish purple hue – not appetizing! Next time, if I can't find just regular frozen carrots, I think I'd just get fresh ones and slice and cook those. Surprisingly, I actually really like the water chestnuts in this recipe. I usually don't care too much for them but they added a great crunch!
The making of this vintage casserole couldn't be easier. Basically just get a bit bowl, mix the sauces and drained mushrooms then mix the rest of the veggies and pour into a prepared casserole dish. Then cook it in a preheated oven. Simple! I think you could easily swap out many of the ingredients depending on what you have on hand.
Give this Vegetable Oven Medley a try the next time you need a quick meal with tons of veggies. Let me know what you think in the comments or share a pic of how it turned out on Instagram (@BDHBakes).