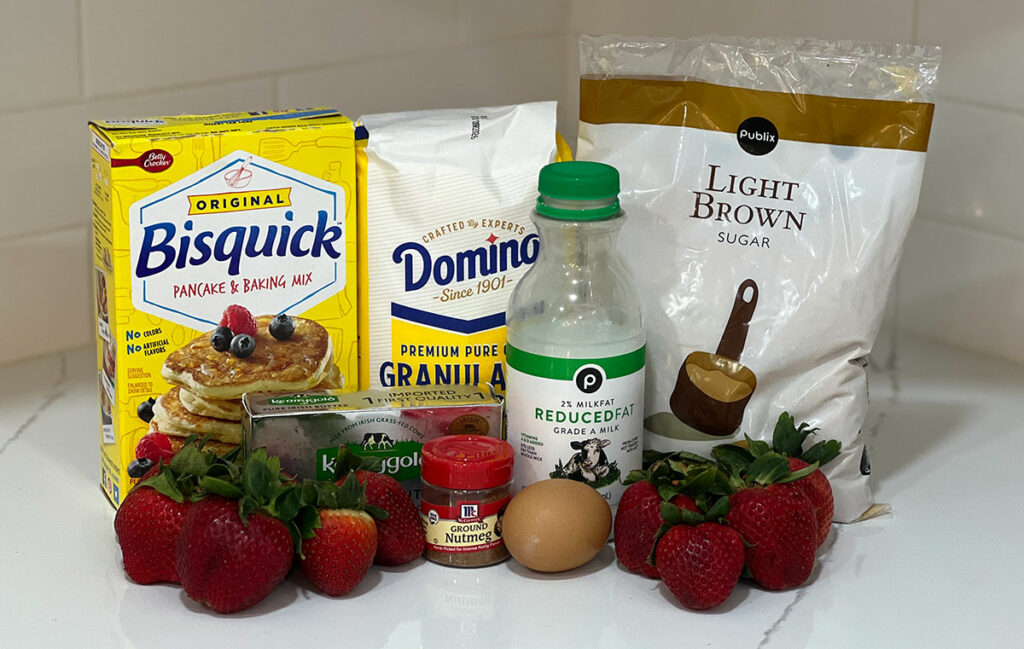 This Strawberry Crumb Cake is truly unique and celebrates all things strawberries. It'd be a perfect dessert for brunch or after dinner with a bit of ice cream. The batter for the cake is primarily Bisquick, which makes the texture a bit like slightly-more-dense angel food cake. The Bisquick, however, makes it so this cake couldn't be any easier to make. Aside from dicing the strawberries, this is a great cake for any small chef! This cake is also a one-pan hero as the strawberries and crumble on top create a stunning appearance without needing to frost or decorate the cake. Bake it and allow it to cool a bit and you're ready to dig in!
In Grandma's recipe she notes to bake the cake in a greased 9″ x 9″ pan which I think would also be great. I baked it in a 9″ round springform pan though so that I could easily remove it and place it in my cake saver. I think that's probably the way to go if you want to present the dessert to impress your guests. The 9″ square pan though will be much easier and taste just as good – if not better because of the extra edges!
This cake is pretty great just the way it is, but I could easily see playing around with the flavors and toppings for sure. I think you could easily add some almond extract to the batter and then top it with diced peaches or cherries. Or swap the nutmeg for cinnamon and use diced pears. Really there are a lot of options I'm eager to try now!
I hope you give this one a try – it's perfect for spring and summer. If you do, let me know what you think in the comments, or share a picture of your end result with me on Instagram (@BDHBakes).