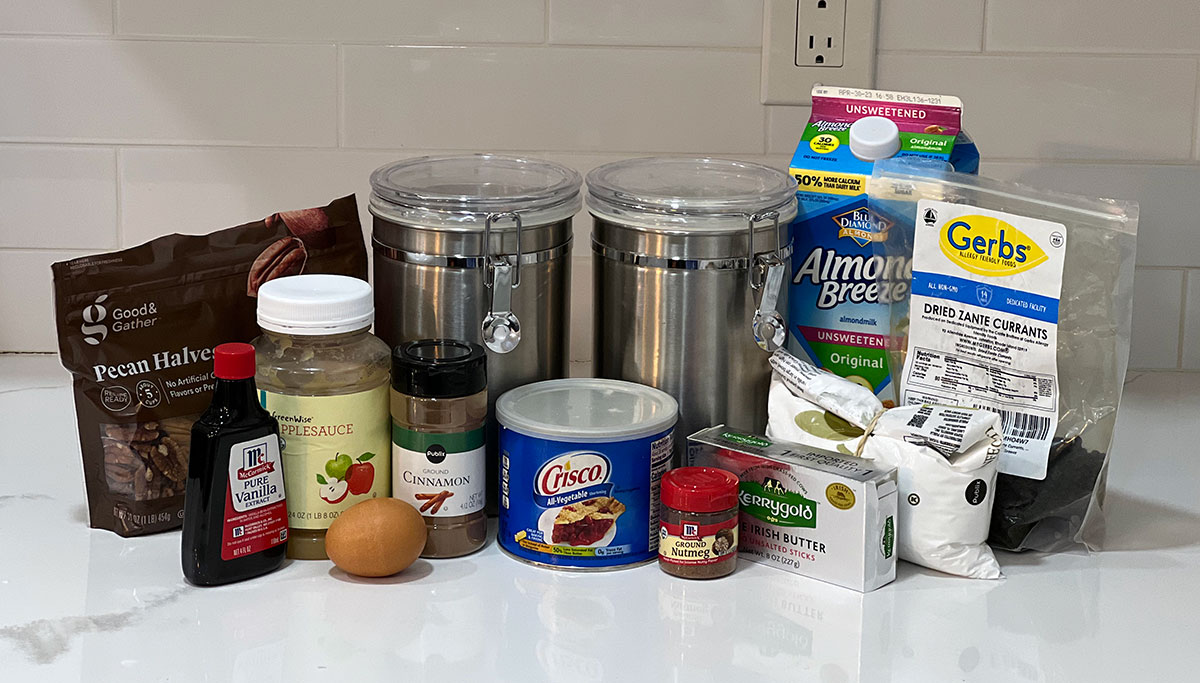 These Applesauce Cookies are a bit controversial in our family (my mom hates them!) but they are always on my Aunt Sandy's Christmas cookie tray. Hated by some, loved by more they are a great cookie for a family feud. The cookie itself is kind of light and cake-y but filled with great spiced apple flavor. The hero though is the frosting. A fairly quick and easy caramel type frosting finishes theses cookies off to make them something special. Because of all the spices, these cookies are great for fall and always welcome on any holiday cookie tray. Well, almost always.
The cookies themselves are pretty straight forward. Combine your dry ingredients well and set aside. Then, cream your fat and sugar and start adding the rest of your wet ingredients. Slowly add the dry into the wet in 1/2 – 1 Cup increments and mix on slow just to combine. Add the mix-ins at the end and mix just to evenly distribute. Grandma's recipe card calls for raisins and chopped nuts. I used pecans as that's what I had on hand and I think go best with these cookies. Instead of raisins though, I used currants. I still had a bunch on hand left over from a Christmas fruitcake and I like their flavor and size much better. You could easily omit either or both of the nuts and raisins though.
The big hero of these Applesauce cookies is the frosting! It's a fairly easy caramel type frosting to make but you'll want to be careful. If you've got younger bakers helping you, making the frosting might be a good time for them to step back and watch. Melting the butter is pretty straightforward of course, but once the butter and sugar start boiling, things can get a bit sticky – literally! When you add the milk to the boiling butter and sugar is when it can really bubble up. Just be careful and watch what you're doing and you'll be fine. And once you try the frosting it will be all worth it!
I hope you give these cookies a try! If you absolutely hate them like my mother, please let me know as that will make her feel good. LOL! If you love them though, please let me know that, too. Or share a picture of your end result and tag me in it on Instagram (@BDHBakes).