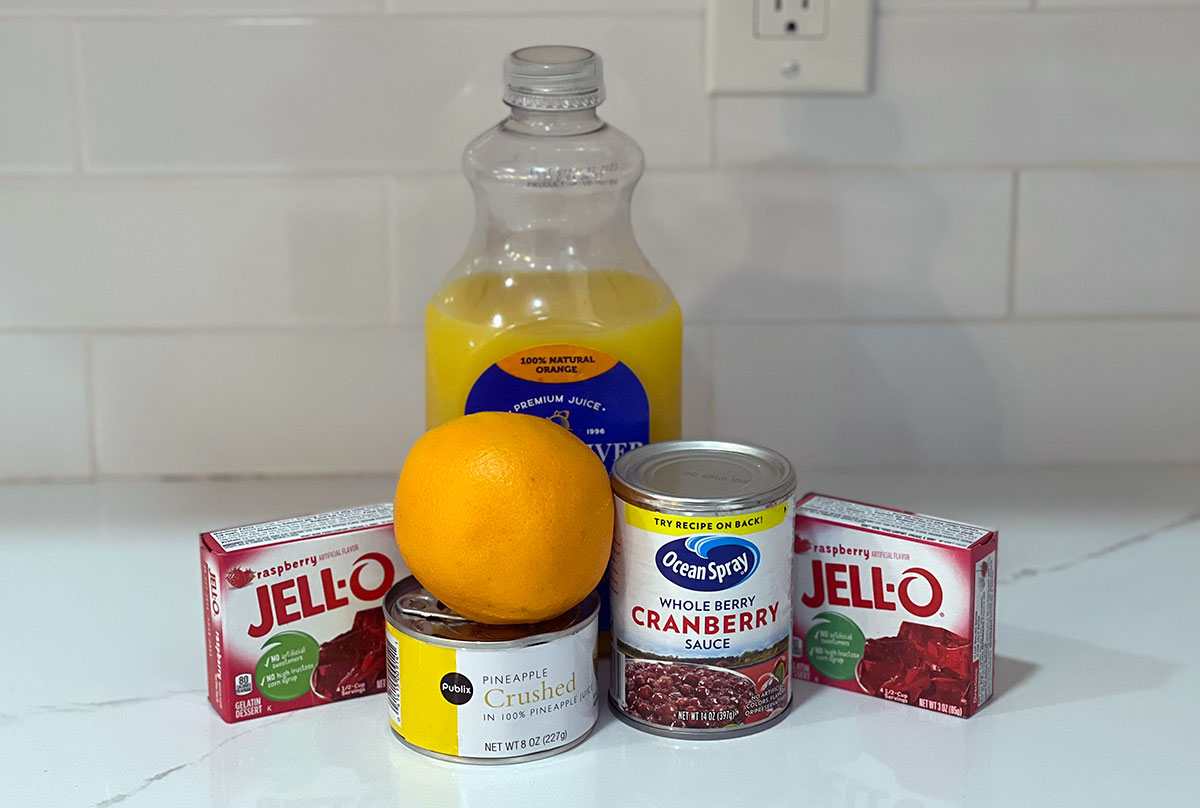 As I was going through Grandma's recipe box to see which one was next, my husband asked if we were getting into the aspic's yet. Well, not quite but this Cranberry Relish Mold side dish is about the next best thing. And it actually tastes great! It's a classic jello mold that definitely is all about the cranberry making it perfect for the holidays. BUT, with the raspberry and orange flavors, it could be great any time of the year. It's sweet, but not sugary and the tartness of the cranberries really balances it out. And it couldn't be simpler to make. If you can boil water and stir, you're gonna be just fine.
Grandma's recipe calls for "Wild Raspberry" jello, but all we could find was regular raspberry. We're wondering if over the years the raspberries grew up and settled down. And for the orange juice, I would zest the orange first and then squeeze as much juice out of it as you can. You might be able to get the entire 1/2 Cup that you need, but if not it would be smart to have some bottled orange juice on hand to supplement the rest.
The trickiest part of this recipe is unmolding it once you're ready to serve it. Once you've poured the mixture into the mold and let it chill in the fridge for 2-4 hours it should be set and ready to unmold.  Have a big bowl (or sink full) of hot water ready and you should be good. It just needs a quick dip in the hot water (30 seconds or so) to loosen it from the mold so you can flip it out onto the serving platter.
I hope you try this Cranberry Relish Mold and enjoy it. I'd love to see how yours turns out! Share a pic with me on Instagram (@bdhbakes) and let me know your thoughts in the comments below!