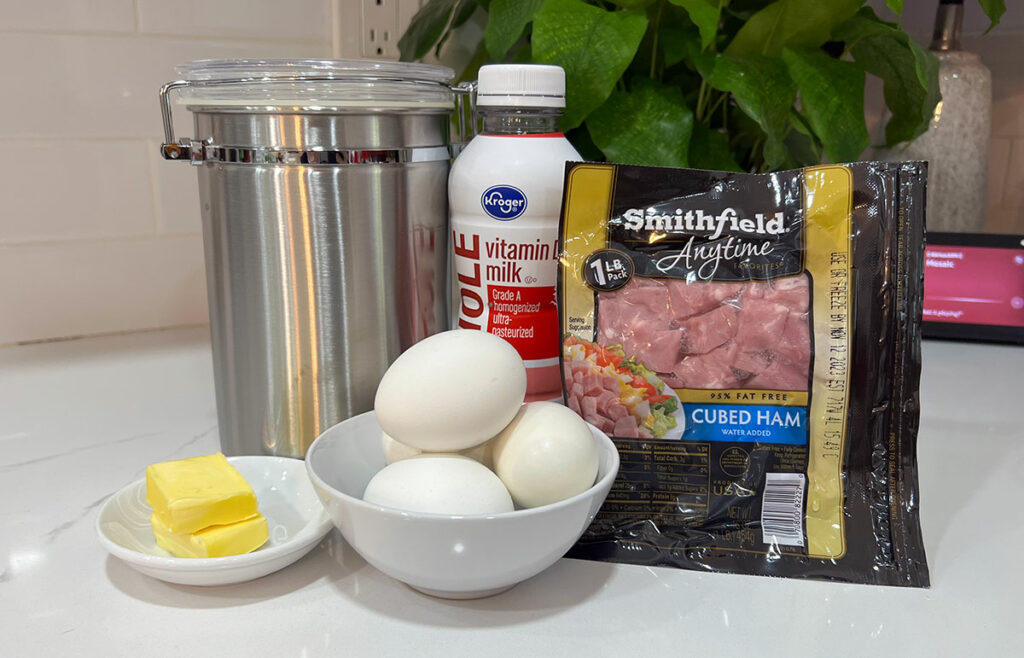 Creamed Eggs and Ham is a classic Grandma Jackie recipe and one I remember eating a LOT as a kid. We had it frequently all throughout the year, but every Easter all the eggs we found usually made it into this meal. This recipe is perfect for any breakfast or brunch, but we had it for dinner a lot as well. It's really quite easy and very filling. If you can boil an egg and make a basic cream sauce, this will be a breeze. And if you can't — I'll tell you how!
Getting Started
First, we need hard boiled eggs. There are a million tricks and tips on the perfect boiled eggs. Feel free to Google them and try them all but I haven't found any that make all that much of a difference. Just keep it simple: 1. Put your eggs in one layer at the bottom of a large pot. 2. Add water to cover the eggs by about an inch and bring to a boil. 3. Turn off the heat and let the eggs sit in the hot water for 10 minutes. 4. Put the eggs in an ice bath or run under cold water to cool. *I have found that older eggs are easier to peel, but we're chopping them all up so you don't need perfectly peeled eggs.
Cream Sauce
The next biggest challenge is making the cream sauce. This is one of the most basic sauces so don't worry to much. Just make sure all your ingredients are ready to go when you start cooking as it will go fast. Get a big sauce pan and whisk and jump in. Once you have the cream sauce made, the work is done, just dump in the eggs and ham and warm them up and you are good to go.
Serving Creamed Eggs and Ham
We always had this served over toast and I can't imagine it any other way. Well, maybe biscuits. That could be REALLY good if you want to step it up a bit. And I like to garnish everything at the end with some paprika, chives, parsley – whatever you have on hand that you think might be good.
Give this Creamed Eggs and Ham recipe a try. It's so easy and comforting I promise you'll love it! If you do try it, let me know what you think in the comments or share a picture of your end result with me on Instagram (@bdhbakes).