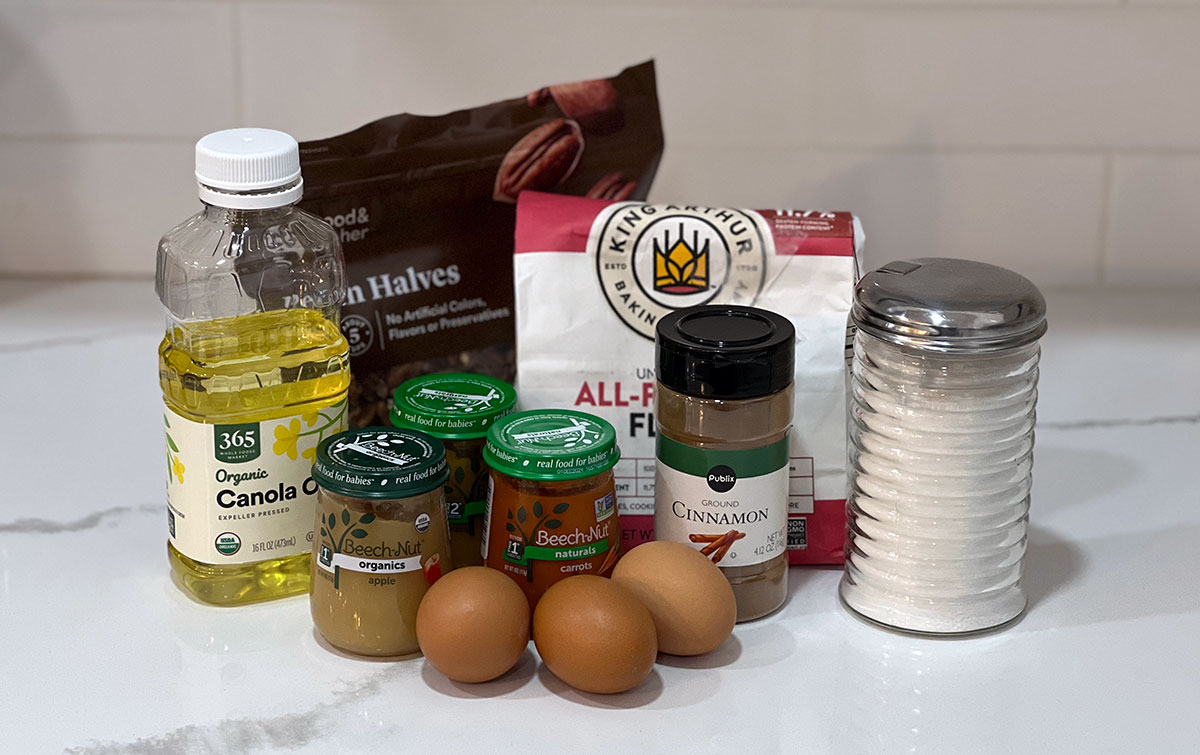 I was a little excited and very curious to try making these Bingo Bars. The recipe read like a technical challenge on The Great British Bake Off as there was a list of ingredients and not much else. The inclusion of three different types of baby food had me intrigued! I texted Grandma Jackie to see if she remembered this recipe or had any insight and she said she didn't remember them but she couldn't wait to hear how delicious they are. LOL! And she was right – they are delicious! The end result is surprisingly like a carrot cake, but in a "bar" form. I put "bar" in quotes as they are the size and shape of bars, but the texture is definitely more cake like.
Overall, this is a pretty simple recipe. Set your eggs out on the counter the night before if you think of it. (If not, it's not the end of the world.) And if you're topping this with Grandma's Cream Cheese Frosting, be sure to set your butter and cream cheese out before you start making these. The Bingo Bars call for chopped nuts—I used pecans—and their flavor will be greatly enhanced if they're toasted first. Even if the package says "toasted" you still need to toast them yourself to get the best flavor. If you're pressed for time, you can toast them in a dry skillet on the stove top. If you do that, you need to stir and watch the nuts and DON'T WALK AWAY. When toasting them on the stove top they can burn very easily. For a fool proof way, just toast them in the 350º oven for about 5-10 minutes and stir once or twice.
Once the bars have been baked and cooled, they're gonna need some kind of topping or frosting. Since they taste so much like carrot cake, the perfect frosting is Grandma's Cream Cheese Frosting. It's delicious and easy to make so I strongly recommend it!
These Bingo Bars are definitely a classic vintage recipe. They're perfect if you're looking for an easy dessert to feed a crowd. They're also great if you've got a craving for carrot cake but don't want a big slice of cake. I hope you give these a try and if you do, please let me know what you think in the comments below or share a pic with me on Instagram (@BDHBakes).