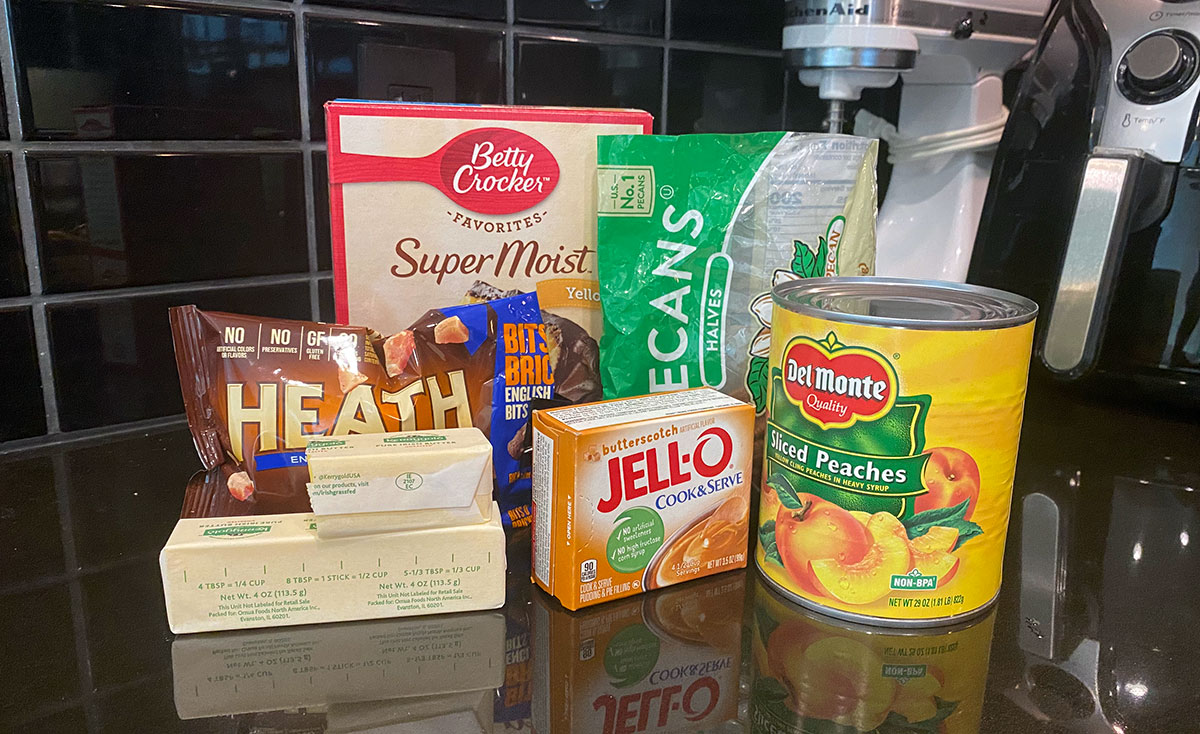 This Peach Cake is so easy to make and just an all around sweet sensation! It's essentially a dump cake so it couldn't be easier to make as well. If you're looking for a dessert to make for a summer gathering or just to have as a special treat throughout the week – this is one you need to try!
Grandma Jackie's birthday was last weekend and while I was talking to her she asked if I had made this cake yet. She just loves anything peach and was going on about how great this cake was. After her rave review how could I NOT make it the next chance I got? She also said if I made the cake to remember that it absolutely had to be served with a little cream on top or – even better – a scoop of ice cream. Well, you gotta follow Grandma's orders.
Looking at Grandma's recipe it calls for Betty Crocker's Butterbrickle Cake Mix – which they don't make anymore. Fortunately, Betty Crocker has a substitute recipe on their website that is basically a mix of a yellow cake mix, butterscotch pudding mix and toffee bits. Easy enough!
This Peach Cake is so easy it's to make with kids. You literally dump all the ingredients into a pan in order and that's about it. The biggest challenge is melting butter, so if you can do that – this cake will be a breeze. Grandma's recipe just calls for nuts on the top and I chose to use pecans. I think they are about the best option with peaches. You could easily leave those off or choose another type.
I strongly suggest you give this Peach Cake a try and of course, if you do please let me know in the comments below or share a picture with me on Instagram (@bdhbakes).