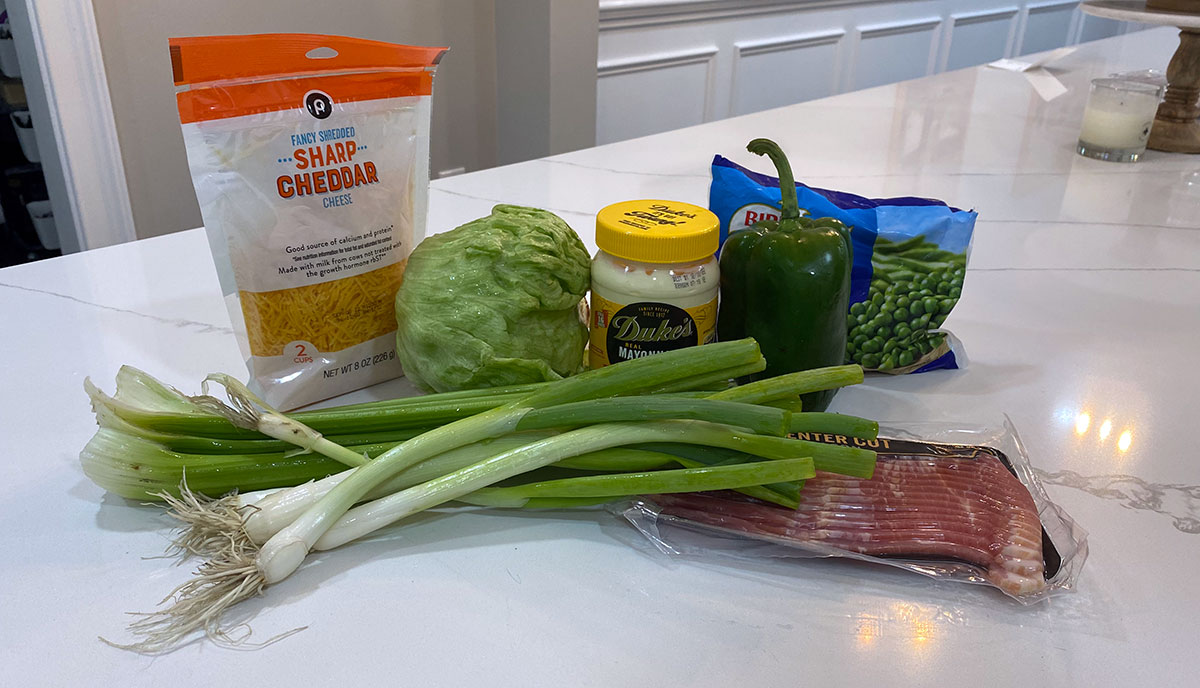 This Garage Salad is a great, easy to make salad that's a welcome addition to any summer time party or cookout. It couldn't be simpler to make. You chop your ingredients, layer them in a 13×9 and let it sit overnight in the fridge. Easy!
Before we get started – you're probably curious about the name. Grandma Jackie told me that she originally made this salad for a dinner party and she ran out of room in the fridge, so … out to the garage with the salad where it sat overnight. That's when Garage Salad – and it's name – were born!
To get started on this salad, wash all of your produce and allow to dry well. Then, get to chopping! First, chop your lettuce. I recommend coring it, cutting it in half from the top down and then chopping it into about 1/2″ – 1″ chunks. For the green onions, celery and green pepper, you'll want to chop those pretty finely – almost dicing them. Everything mixes together well when all the ingredients are about the size of the peas or a little larger.
You'll want to make sure you cook your bacon in advance or get that started while you wash and chop the veggies. I suggest cooking it under the broiler in your oven. Simply but the bacon on a baking rack on a baking sheet (so that the fat falls away) and bake about 6″ away from the broiler for about 8 minutes or so, flipping once half way through. Allow to cool completely on a plate lined with a paper towel before crumbling.
When we served this, one of our guests had an egg allergy and so wasn't able to eat it because of the eggs in the mayonnaise. That made me wonder if there were alternate versions that you could do and I certainly think so. I think, instead of the mayo mixture, a layer of blue cheese dressing could be wonderful. Alternatively, for a slightly healthier approach, I think greek yogurt with some ranch seasoning could be great as well.
I hope you give this recipe a try and if you do, please share a pic with me on Instagram (@bdhbakes) or let me know what you think in the comments below.