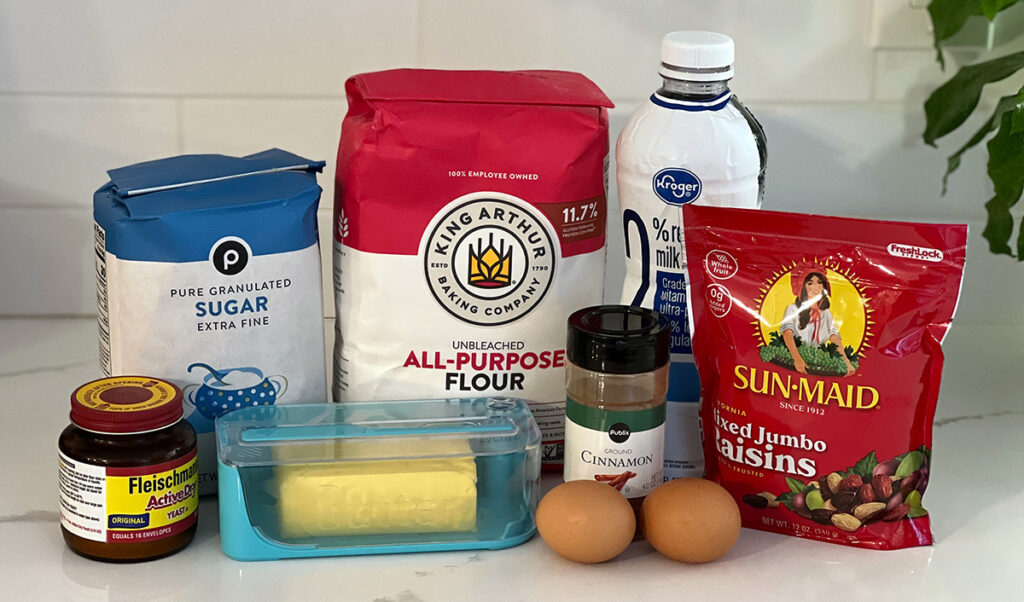 This Dimpled Kuchen recipe sure looked interesting when I came across it in Grandma's recipe box. I don't remember her ever making it and either did Mom. It's another mystery recipe but I was intrigued to give it a try. Yeast dough, tons of butter, cinnamon and sugar — what's not to love!
Of course, "kuchen" means "cake" in German and this is definitely a morning / coffee style cake. But "kuchen" can also mean a very specific type of cake that's almost pie like (learn more here) – and this recipe is definitely not for that. I did a little more research and found recipes for Butterkuchen – which all seemed much more like the recipe I found for Dimpled Kuchen.
Dimpled Kuchen Techniques
To make the dough, you heat the milk, 1/4 Cup butter and 1/2 Cup sugar, then bloom yeast and combine all that. Next you beat the eggs and a bit of the flour, then slowly add the remaining flour and milk mixture alternating between the two. Grandma's recipe just says to beat the mixture, but I think when I try this again I will kneed the dough for a bit to help build the structure.
Another technique I found in similar recipes but wasn't noted on the recipe card was, after the dough as proved, you can actually use a wooden spoon to make 80 dimples in the dough and then press the butter into that. I didn't do that for this bake and the cubed butter still created quite a few dimples – but I think it'd be even more noticeable if you did.
For the topping, it's a pretty simple mix of sugar and cinnamon – and really, what could be better? But I think you could mix that up quite a bit if you wanted. I think cardamom would be great! Another very traditional topping is sliced almonds which would be great.
Serving
We found that this Dimpled Kuchen was really great the first day. It quickly dries out though, so the left overs the following day(s) weren't any where near as good. I would definitely plan on baking this right before you plan to serve. Since this is a morning bread, an easy way to do this would be to make the dough and allow it to proof in the fridge overnight. Then, the morning you want to bake, simply take the dough out of the fridge, create your dimples and fill with butter and bake.
I hope you give this Dimpled Kuchen a try. It's really a great treat and quite a bit easier to make than a lot of other morning pastries. It's great for a beginner baker to start to learn about dough and pastry. Plus, it works as a great base recipe to really play around with different flavors and toppings. If you give this a try, let me know what you think in the comments or share a picture with me on Instagram (@bdhbakes).