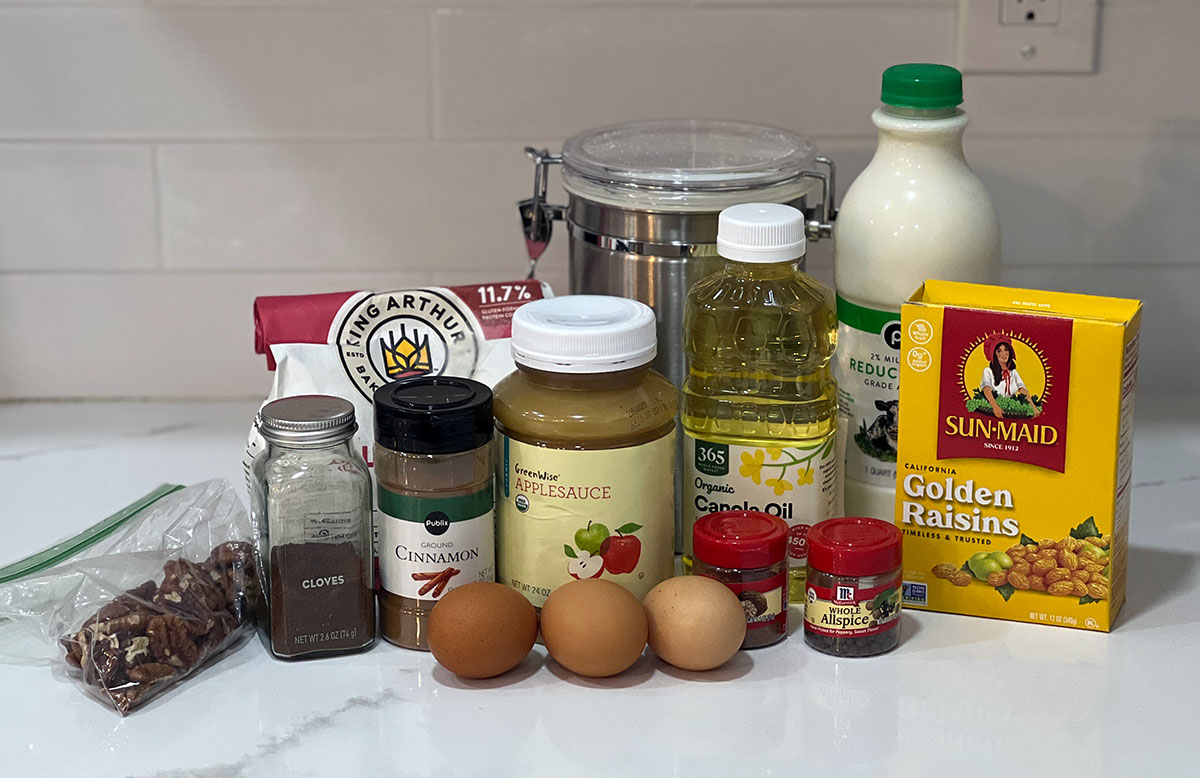 WOW – this Applesauce Bread is so easy to make and it's is FULL OF FLAVOR! There are quite a few spices in this cake-like bread loaf that make it a real treat. Perfect for breakfast or a midmorning snack. And the best part is, it comes together very quickly and makes two loaves! You can easily enjoy one today and freeze the second to enjoy later. Or give to a friend. But once you taste it, you'll probably wanna keep the second loaf all to yourself.
In the recipe I got from Grandma (she thinks she got if from her friend Mary) she notes that once the dough is made you can add 1/2 to 3/4 cup chopped pecans or raisins. Since the recipe calls for pecans on the top of the bread (which is delicious), I opted to try raisins. I did a heaping 1/2 cup of raisins and it turned out great. I think if I make this again, I'd do the full 3/4 cup or more. If you're a big fan of pecans though, I think I'd do a heaping 1/4 cup of pecans along with a heaping 1/4 cup of raisins.
This Applesauce Bread was very easy to make with a stand mixer but can easily be done with a hand mixer as well. There really aren't any tricks to this bread or any special techniques you need to be aware of. It's a great recipe to try if you're just starting out trying to make bread (this is more like cake) or great to make with young bakers as well!
If you give this Applesauce Bread a try I'd LOVE to hear what you think. Please let me know in the comments below OR share a pic with me on Instagram (@bdhbakes).