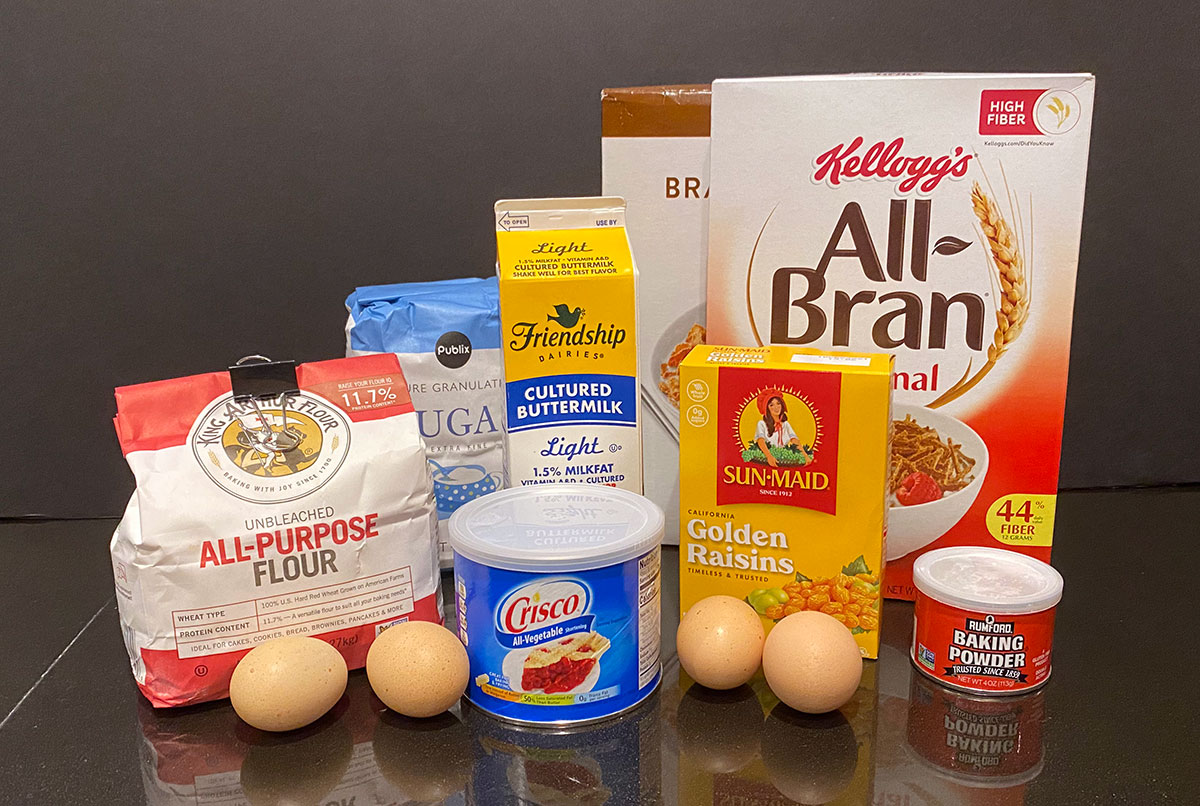 This is my grandma's classic bran muffin recipe and it is a WINNER! I can't recommend it enough. It's fairly easy to put together and bake. It makes a huge batch so you can make one batch and enjoy them for quite a while.
A couple of notes on ingredients: In the photo above you see a container of baking powder – that's incorrect. It should be baking soda. I realized it before I added anything to the batter, but unfortunately not before I took the picture. LOL. Also, make sure you have golden raisins, they are much better and plumper in this recipe than regular raisins. Some people also swear you need to have name brand bran flakes, too. I made this in the time of COVID so you take what you can get in the grocery store. I used Publix brand bran flakes and the muffins still turned out great.
Making the batter is fairly easy if you follow in the instructions below. You should always make sure your eggs are room temperature when baking. Room temp eggs are easy to combine with other ingredients and just behave better. A good idea is to just set your eggs out on your counter the night before you make the dough. If you forget to do that, simply put the eggs in a bowl of warm water for 15 minutes or so. I also started in a stand mixer, but after adding the buttermilk, I needed a bigger bowl. This worked out well as it is at that stage that you add the flour. I suggest adding the flour in 1 cup increments. Between each addition you'll want to just gently fold the flour into the wet mixture just until is all moistened. This will keep your muffins light and fluffy!
These bran muffins make about 5 dozen muffins so it's a perfect recipe to make with enough to give away to friends or neighbors and still have plenty for yourself. They also freeze really well,  just pull them out of the freezer a night at they'll be perfect in the morning. Alternatively, you don't have to make all the muffins at once. Grandma notes in her recipe that the batter with keep for 6-8 weeks in the fridge. If you have the room, a great idea is to just keep the batter in the fridge and just make a dozen fresh muffins when you're out.
If you give this recipe a try, please let me know what you think in the comments below or share a picture with us on Instagram (@bdhbakes).