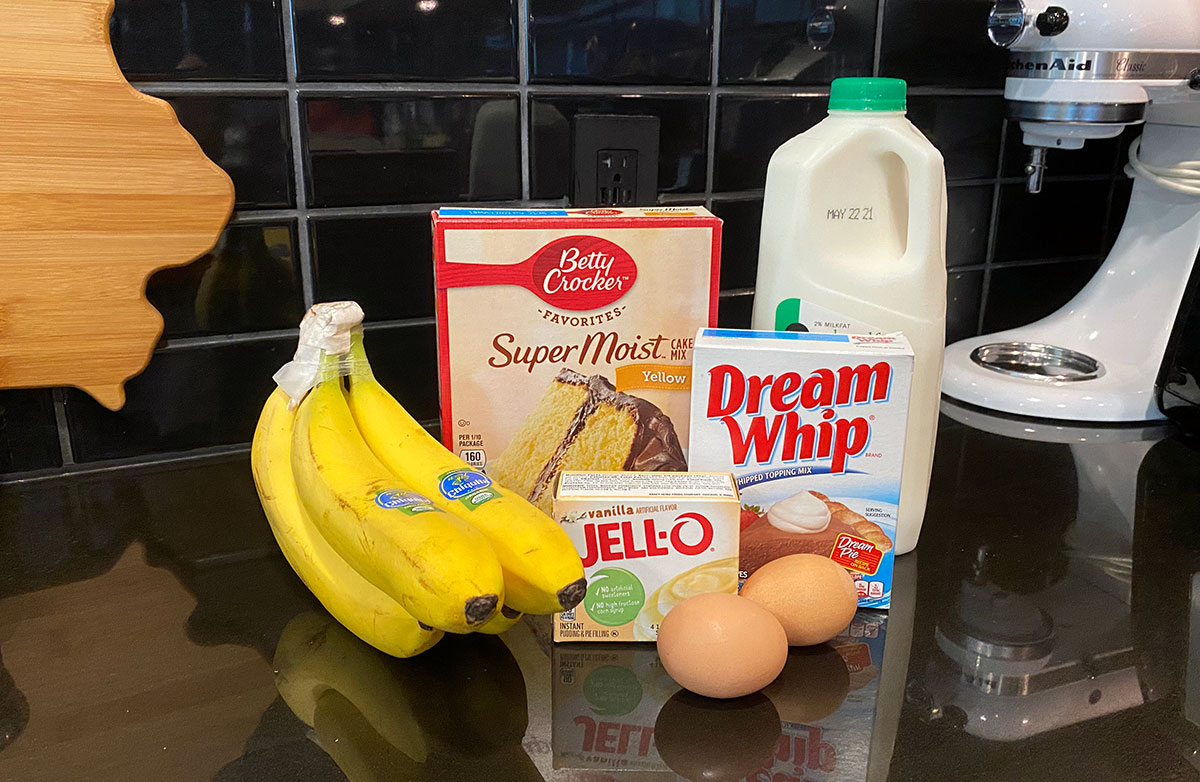 This Banana Cake might be one of the best tasting cakes I've ever made. It's just packed full of amazing banana flavor. If you or someone in your life loves bananas – you need to make this cake NOW! And, since the cake recipe is all based on a boxed cake mix, it couldn't be easier to make. It's also a great recipe to make with kids – especially with all the banana mashing!
The most challenging part of making this cake is making sure your bananas are at the right ripeness. If you're using fresh (not frozen) bananas in the cake, you'll want to make sure they are very ripe. They should be starting to brown and quite soft. (The bananas in the photo above are not quite ready to be mashed – I used these for something else I'll tell you about in a bit!) Alternatively, you can use frozen bananas – just make sure you allow them to thaw to about room temperature before trying to mash them. Whenever we've got overripe bananas in our house that no one will eat, we just peel them and throw them in the freezer. Then, we can pull them out and use them for baking, homemade Dole Whip, banana ice cream or any other number of things.
This Banana Cake is really great just the way it is, but I did make once adjustment that I'd recommend you try. I took a fresh banana (one from the photo above) that's still pretty firm and not too ripe, and sliced it in thin slices. I then put that on top of the cake before I frosted it. This added even more banana flavor (not that the cake needed it!) and a new, complimentary texture as well. You definitely can make this cake without that step, but I think it's worth it.
The frosting is also very unique but pairs with the cake perfectly. It uses Dream Whip – which I had heard of but never used. It's whipped topping substitute that isn't used quite a much as it used to be so it was fun to rediscover. I wasn't sure where I would find it but after a search, I found some at our local Wal*Mart. I also found some on Amazon but who wants to wait to make this? Those were the only two places though that I found that carried it so pick your evil corporation.
Honestly, this cake has everything: it's easy to make, it's delicious and it's perfect for spring and early summer. I hope you give it a try and if you do – please let me know what you think in the comments or share a picture with me on Instagram (@bdhbakes).