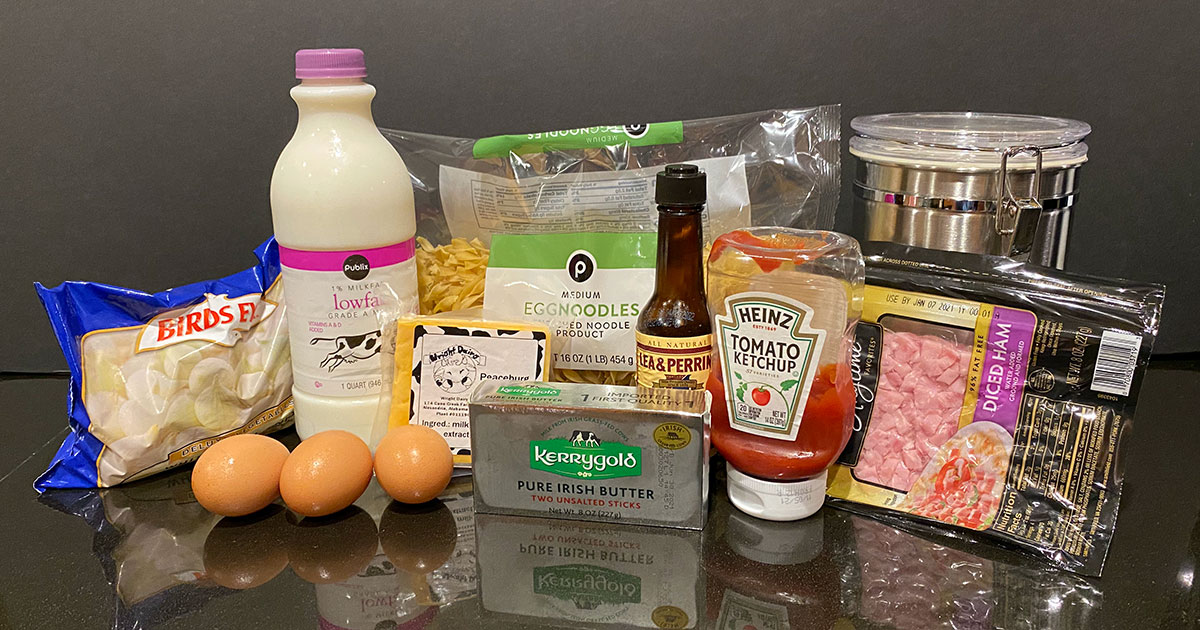 This Baked Noodle Ring recipe is a CLASSIC vintage recipe. Just by looks alone you can tell it is a classic. And boy, there is good reason why. While it looks straight out of an episode of Mad Men, it tastes delicious and is a definite comfort food. I'm sure it's even better now that you can eat it without everyone around you chain smoking.
Grandma's recipe (below) is only for the noodle ring itself, but when she made it she would always fill it with a white sauce, ham, peas and pearl onions. I, of course, had to try it Grandma's way first. And it was wonderful. But, I could also see filling the ring with a cheese sauce (Mom's suggestion) or a red meat sauce or even roasted veggies. You could easily make this meal vegetarian by omitting the ham or trying one of these alternative fillings.
Making the baked noodle ring is pretty straight forward. You'll want to get your water on the stove starting to heat and then cook the noodles first. While you're waiting for the water to boil and while the noodles are cooking, you should be able to get the sauce together. Grandma just calls for grated cheese and doesn't specify what type. We had a great sharp cheddar from a local farm and that was great.
The bake noodle ring cooks for about 45 minutes so that should be plenty of time to make whatever sauce you want for the filling. Really the whole thing could easily come together in under and hour if you're focused! And looking at the end result, can you believe it's so quick? Definitely a recipe to pull out when it's time to impress company.
I sure hope you try making this baked noodle ring. If you do, please tell us what you did for the filling and what you thought in the comments. And be sure to share a picture of your end result on Instagram and tag me (@bdhbakes).