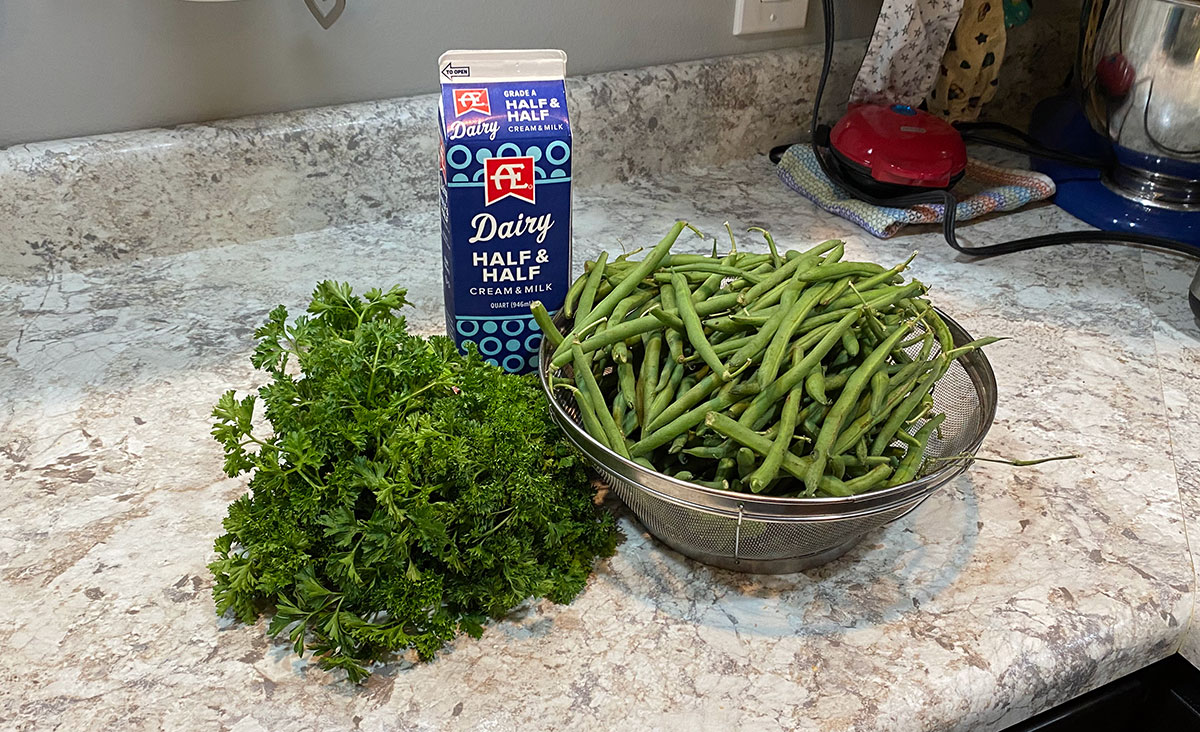 These Parsley Green Beans are an absolute holiday staple in our family! I've had them everything Thanksgiving that I can remember and I know they were served years before I was born. They also frequented our Christmas dinner as well. They are a perfect side dish for both holidays and would be great anytime you've got a special meal that needs a perfect side. The recipe was originally from my Great Grandma Hintze. Now that you've discovered this way of doing green beans, you can throw that canned green bean casserole with canned soup OUT THE WINDOW! This way of doing beans is along the same lines, but far superior. And no nasty canning ingredients!
The recipe is pretty easy to make and is just a bit time consuming. It can easily be made a day or two ahead though to save you time and make things a bit easier on the day of the big meal. Snapping the beans and pulling the leaves off the parsley are the only real work you have to do though. The trickiest part of the whole recipe is making sure you have softened butter to mix with the flour. You want it REALLY soft so feel free to get it out the day before making the beans or at least several hours before you need it. When adding the butter and flour mixture, you'll also want to make sure you stir really well in between each addition. Once you add the cream and milk though, you should be stirring quite frequently anyway just to make sure they don't scorch.
Making it the day ahead is a snap and a big time saver. Simply make the whole recipe and once it's done, allow it to cool and store in the fridge. Then, just warm back up on the stove top (on low heat, stirring every so often) or place it in a slow cooker on low and give it an hour or two to warm up to serving temp.
I'm sure you could add spices or flavors to this (or add mushrooms to make it more like the canned casserole), but it would be something different. LOL! I'd encourage you to try it strictly adhering to the recipe first. And if you do – please let me know what you think in the comments below OR share a picture with me on Instagram (@bdhbakes).