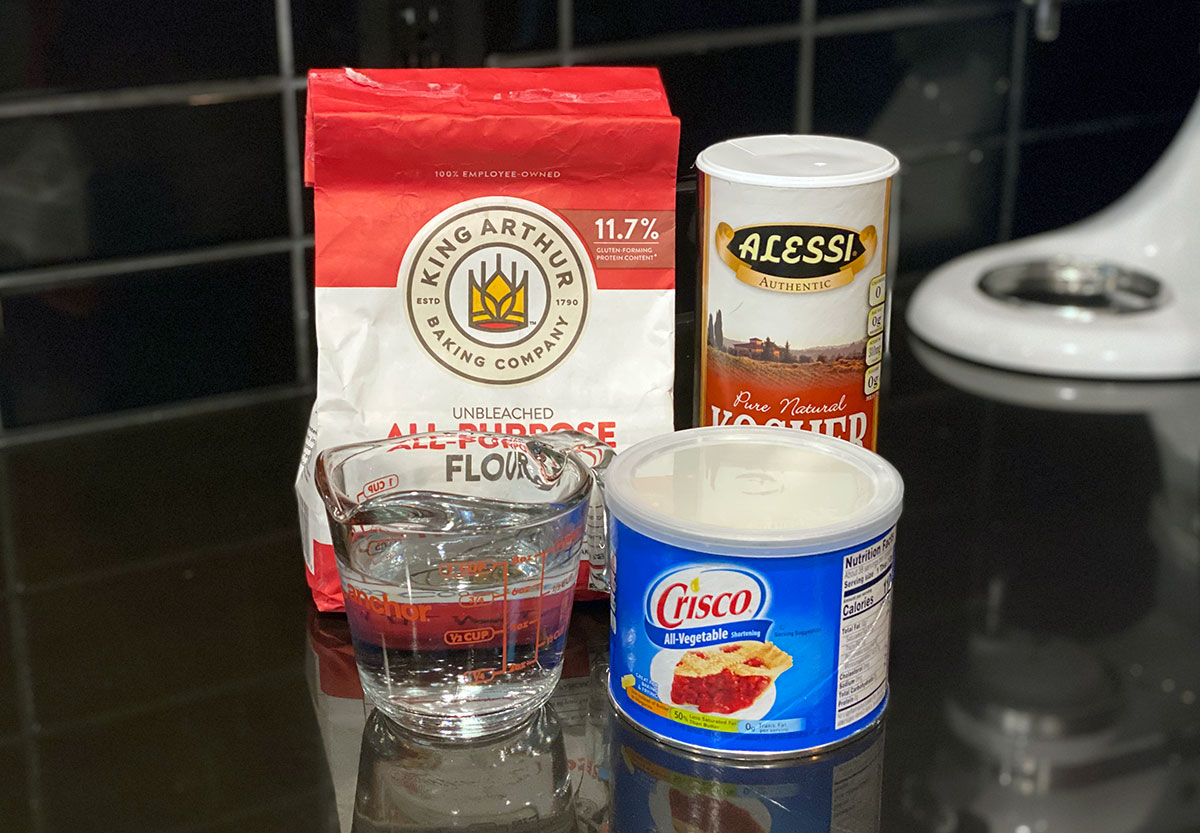 These pastry boats are a really fun and easy way to take an appetizer or dessert to the next level and really wow your guests! The recipe is a version of Grandma Jackie's pie crust recipe which is just rolled out and shaped into boats. You can see in the photo that I filled mine half with a savory ham salad and half with sweet lemon curd. The possibilities are really endless as to what you can use for the filling.
The biggest challenge in making these is of course, making the pie crust. A pastry blender is a great help of course but you can also use a fork or simply your finger tips. You basically just need to get the flour, salt and shortening all blended together with no big chunks. Just keep blending until you don't have any clumps larger than the size of a pea. Then, just add enough water so that the dough comes together and doesn't crack.
When Grandma made these, she would make them for dinner parties and would roll out the dough and cut it into 5″ by 2″ rectangles. This makes really large boats. I think that size would be great for a small group and as something you could serve as an appetizer or along side a green salad. However, when I gave this recipe a try, I needed to take something that was closer to bite size and I wanted quite a few more. I cut the rectangles out in a rectangle that was 3″ by 2″ and found that size was just about right to make pastry boats that were closer to bite size.
For the filling, you really could do anything. Grandma suggests crab or chicken salad in her recipe and both of those would be wonderful! We did half filled with ham salad and a cherry tomato on top and the rest with filled with lemon curd and a blueberry. Shrimp salad or tuna salad are other savory fillings that I think would be great. The possibilities are really limitless with sweet fillings. Any good pie filling or pudding would be great.
I hope you give these pastry boats a try. They really are a brilliant and unique appetizer for any dinner party or big get together. I would LOVE to hear what you use to fill yours and please share a photo with me on Instagram (@bdhbakes).