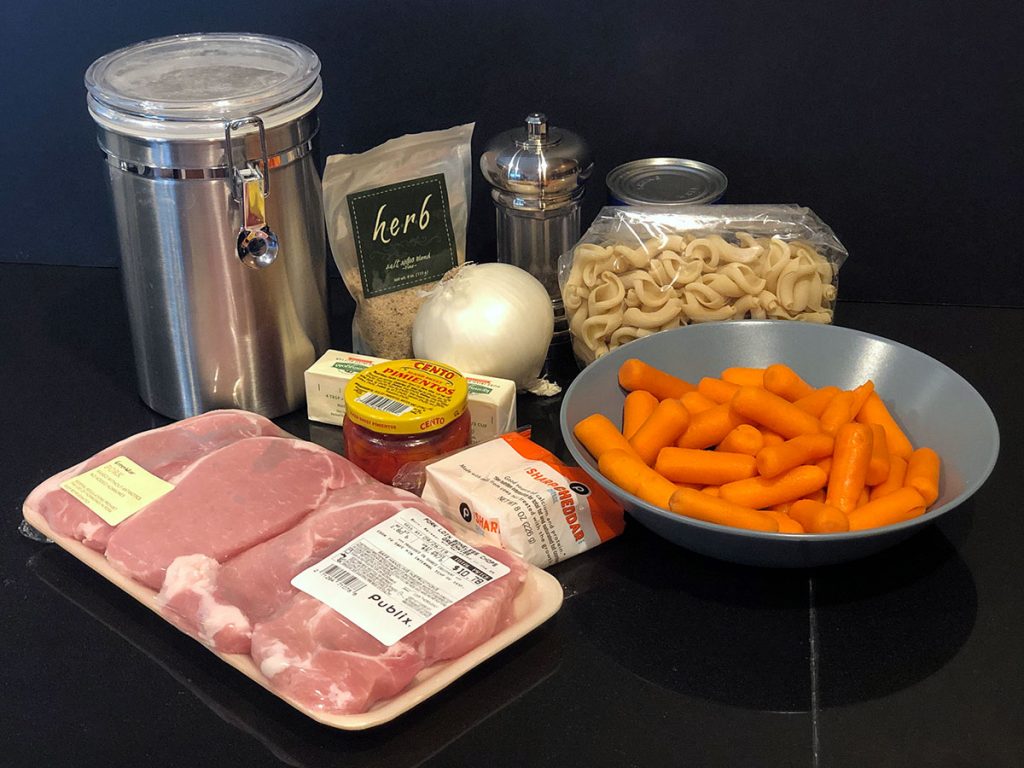 This pork chops 'n noodle treasure recipe makes a great all-in-one meal that's fairly easy to make ahead and have ready for a quick mid-week meal. It's got a really yummy cheesy sauce and the chopped pimentos being included give it an extra warm "home-y" feeling. The noodles I used were called "gigli" noodles that I purchased from Brandless.com, but I think you could easily use regular macaroni or any small, shaped noodle.
Couple of notes I have:
Make sure your pan is really hot so you can brown the pork chops quickly and not over cook them in the skillet. You really just want to get a good sear on them and then get them off the heat as they'll cook more when you bake the dish.
I'm not sure Canned Baby Carrots are a common item in grocery stores any more so I bough fresh one. I figured we could steam those a bit and then use as the recipe call for but that didn't really work so well. I think if I tried this recipe again, I might just slice a pound of carrots into medallions and add to the noodles and sauce before putting them in the bottom of the baking dish.
Other than those two things, this dish was really great and handy to make the day before and pop in the oven when we were ready to eat. I think you could easily try this recipe with other veggies as well and it could be pretty great.
If you try this recipe or have a good suggestion of how to make it next time, be sure to let me know in the comments!!