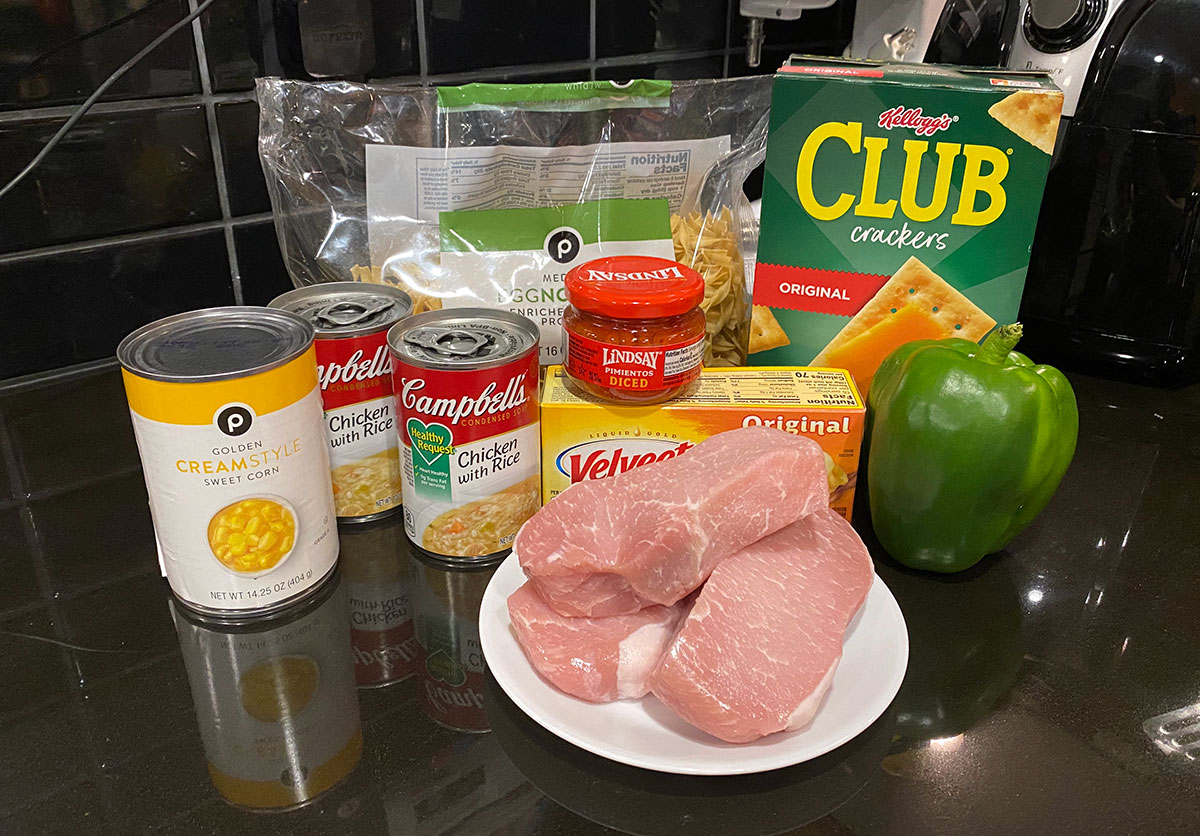 So, this recipe for Supper Dish has a great family history. The story behind this casserole is definitely better than the dish itself. My mom first told me about this recipe and it really sounded intriguing. Then, I called Grandma Jackie who confirmed the story. While my mom and aunts were growing up, they would always have Chop Suey (recipe to come) every Christmas Eve for their big family meal that night. Well, my mom and her sisters being kids, didn't really care for it. One year, my mom's Aunt Glady came up with this recipe to make for the kids. After trying it, most of the kids went back to eating the Chop Suey. When Grandma was remembering, she sure remembered that it was not well received, but that she didn't think it was bad. Then, I read the ingredients and she immediately started suggesting ways to improve it.
All in all – it's not terrible, but it is not remarkable either. My husband Scott and I made a pact that we'd try it (with a frozen pizza at the ready) and if it was terrible, we'd pitch it. Well, it was fine. We ate it. Afterwards, Scott, who is generally very positive and supportive, said, "We don't need to have this again." That's the probably the harshest criticism he's ever given anything. LOL. This is a great recipe to read about and maybe just leave it there.
If you do make it, Grandma had some suggestions from the recipe card which I did follow. She suggested adding an onion and then sautéing the green peppers, onions and pimentos before adding it all together. If I made it again, (I won't) I would likely skip the creamed corn (YUCK!) and probably would use cheddar cheese. And I'd also… ugh, what am I talking about – I'm not making this again. I am looking forward to the Chop Suey recipe now though!
If you do try making Supper Dish – I hereby revoke any accountability. You are proceeding at your own risk! But I DO want to hear about it! Let me know what you thought in the comments or share a pic on Instagram (@bdhbakes).