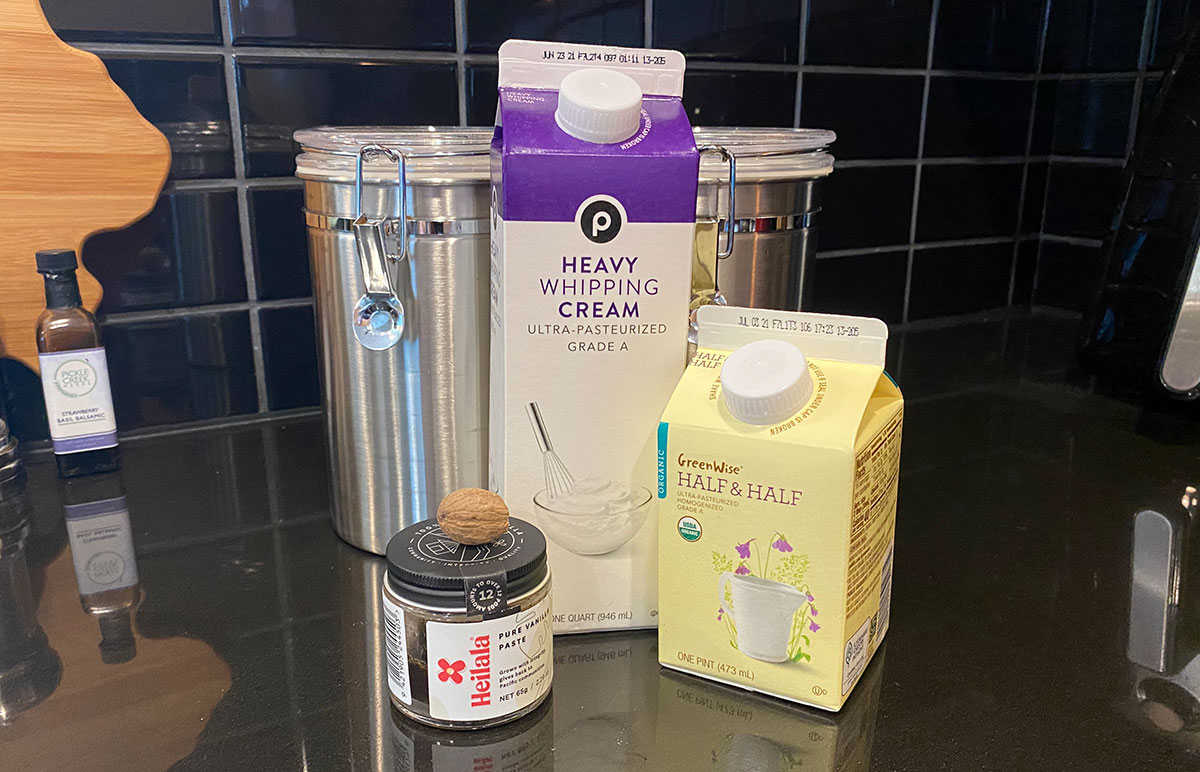 This style of pie goes by many names: Sugar Pie, Cream Pie, Sugar Cream Pie, Hoosier Pie (as it is said to have originated in Indiana). The recipe card in my grandma's recipe box labeled it Old Faithful Sugar Cream Pie – and it is all of those things for sure. The filling is basically just sugar and cream with a hint of vanilla and a dusting of nutmeg. Pretty simple ingredients that come together in a pie that is sweet and creamy. It is absolutely best baked in a pie that uses Grandma Jackie's pie crust.
The recipe below is for the filling of the pie. You will need to also, of course, make or buy a pie crust to put the filling in. If you use a store bought pie crust – this recipe could be ANY easier. We all know, though, that the best tasting pie would be a homemade pie crust and for that, as I mentioned, you'll definitely want to make Grandma's pie crust. If you decide to make your own crust (no matter the recipe), you'll want to make the dough, let it chill for 30-60 minutes, roll it out and line a pie dish and then let it chill again, covered, for about an hour in the fridge before you fill it. You can make the pie crust a day or two ahead if you'd like, just keep it in the fridge and covered well.
Once you have a chilled pie crust, it's time to make the Old Fashioned Sugar Cream Pie filling which is about the easiest pie filling I've ever made. Just whisk together the dry ingredients (minus the salt) and then add the wet and mix for 6 minutes. Allow the filling to chill in the fridge for an hour and then fill the unbaked pie crust and top with nutmeg. Easy!
I was really expecting this pie to be way too sweet and rich, but it really wasn't. It's got an almost light quality to it that was sweet enough but balanced well with the pie crust. I'm a huge fan of nutmeg so really appreciated that and will probably use even more the next time I make this. And there will DEFINITELY be a next time – that's for sure!
I hope you treat yourself to this pie – it's a delight to make and so delicious to eat! Of course, if you do make it please let me know what you think in the comments below and share a picture with me on Instagram (@bdhbakes).