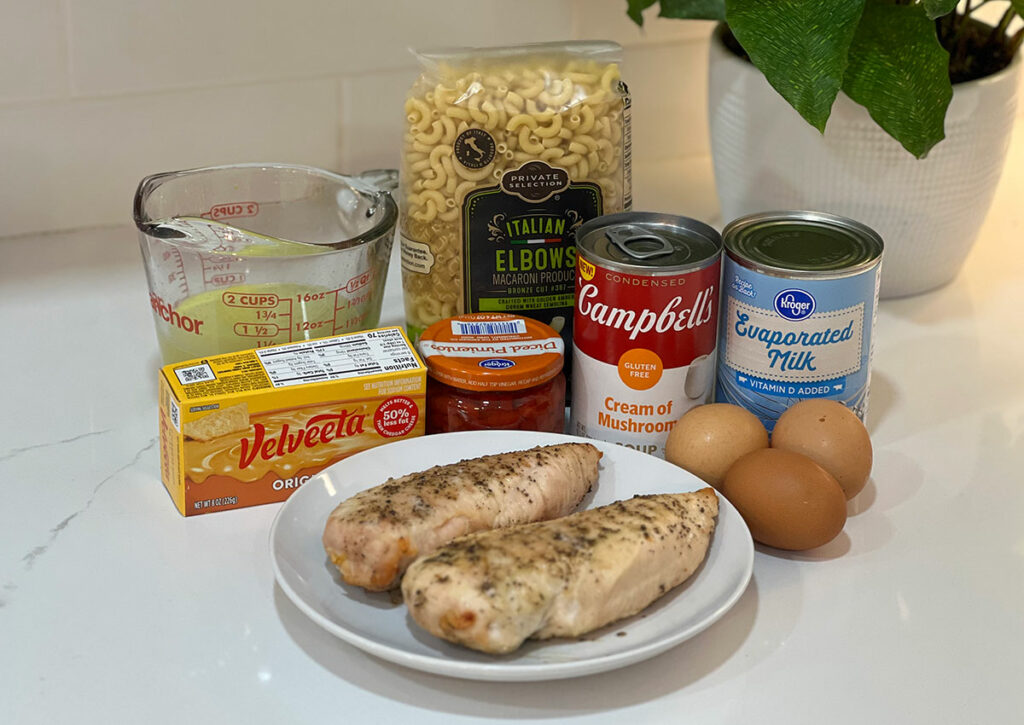 Overnight Chicken Casserole is a real comfort food dish that contains all the greatest hits of a classic casserole. It's got condensed soup, Velveeta cheese, noodles, chicken and even a potato chip topping. This is a casserole I remember quite a bit growing up so a few bites and I'm transported back to my childhood. The best part of this casserole though is how quickly it comes together—you just have to make it the day before you plan to serve it. It make dinner super easy though as you can just pull the casserole out of the fridge and into the oven and you're ready to eat with very little effort.
Cooked Chicken
The recipe calls for 2 cups cooked chicken. You can buy precooked chicken of course, but that's not always that flavorful or you could purchase a rotisserie chicken and chop up 2 cups of that, saving the rest for other uses (like Chicken Strata). However, the best option IMHO is to just roast the chicken right before assembling the casserole. I showed what I did in the recipe steps below to roast the chicken. Of course, if you go with another option, just skip those steps.
Hard Boiled Eggs
You'll also need three hard boiled eggs, so if you don't have any on hand, just boil some before assembling the casserole as well. If you're roasting chicken, that's be a great time to do it. Hard boiled eggs are simple and none of the "secret tips to perfect hard boiled eggs" are really all that helpful. Just keep simple by putting the raw eggs in one layer in a pot. Fill the pot with cold water so that it covers the eggs by about an inch. Bring the pot of water to a boil over high heat. Once the water is at a rolling boil, take it off the heat, cover and allow to sit for about 10 minutes. After ten minutes, get the eggs immediately into an ice bath or run under cool water until they are at room temp.
Cooking the Casserole
Once you have all the ingredients ready, you just dumb them all in a big bowl, mix it well and you're ready to go. Use a 13″ x 9″ baking dish and be sure to spray it with cooking spray or butter it well. Wrap it in foil and let it chill in the fridge overnight. Right before cooking, you'll top it with potato chips. I used just plain Lay's – that's what we had on hand – but I think you could have some fun with different styles or flavors.
I hope you give this Overnight Chicken Casserole a try – it's really a great comfort food type meal and an easy way to feed your crew. If you do make it, please let me know in the comments what you think and share a picture with me on Instagram (@bdhbakes)!