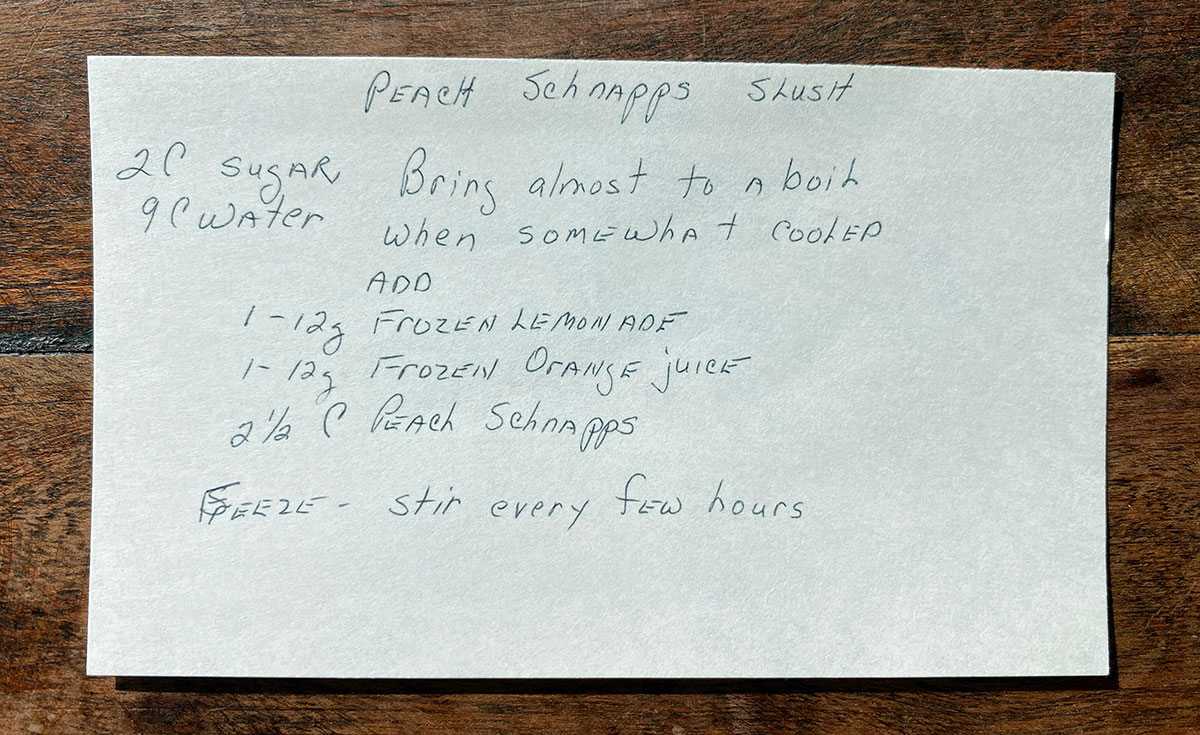 We're still enjoying the last bits of summer so I've got one more classic drink recipe to share! This Peach Schnapps Slush recipe is a bit sweeter than the Brandy Slush recipe a shared a bit ago, but it's also much fruitier as well!  It couldn't really be any simpler to make. If you can boil water and have the patience to wait for the mixture to freeze, I promise you can make it. And as long as you have a pot and a freezer container big enough, you can easily double this recipe for a big batch. Perfect for summer get togethers or lazy days by the pool.
The main star ingredient in this slush is of course the Peach Schnapps. When most people think of Peach Schnapps though, they think of HANGOVERS. Usually because the $6 bottle in the grocery store is made with grain alcohol, lots of artificial sweeteners and flavorings. If you're only having one or two, ya might be all right. But if you're planning on drinking these to beat the heat for an afternoon – it's worth it to get something a little better. We chose the Marie Brizard Peach (https://www.mariebrizard.com/en/product/peach) and thought it was great. Another option is using a peach flavored vodka, although this will likely have much less of a peach flavor but will also be much less sweet as well.
For serving, you can easily drink the slush as it is once its frozen and it's great. Mom suggested filling your glass about 3/4 of the way full and then pouring 7up to fill the remainder. I was skeptical, but we tried it and it was great! I strongly recommend. We also tried the new AHA Peach + Honey Sparkling Water (https://www.drinkaha.com/products/peach-honey/) and loved that as well. You could even just use straight up Club Soda to help cut down on the sweetness. In the photo you can see some red at the bottom of our rocks glasses. I thought the drinks needed a little more of a visual cue as to what flavor they were, so I added a spoonful of cherry juice from a jar of maraschino cherries to each glass before pouring in the slush. It didn't really add any flavor, but did create a great effect.
I strongly encourage you to try the easy to make adult slush and enjoy it for the rest of the summer. If you do, please let me know what you think in the comments below or share a picture with me on Instagram (@bdhbakes).